Living The Golden Standard
Derspinna Goldens is nestled amoung 10 acres of tall Oak trees and Pines, just west of Kalamazoo Michigan. 
 F
ounded in 1978 as breeders, today Derspinna has grown into a large Boarding and Grooming facility. So I naturally have been raised among many Golden Retrievers. 
My parents started training and showing Golden Retrievers during the mid 1970's in the 3 areas of conformation, obedience and field. Multi titling many of our own dogs. Now Years later the torch has been passed to a new generation. We now strictly focus on the Confirmation ring, and are excelling every step of the way. Many weekends are spent traveling the midwest and Canada promoting and showing our dogs in AKC, UKC, and CKC events!
All of the dogs in our breeding program are of the highest quality, balanced, and meet the breed standard. Each have proper health clearances and the true "GOLD" temperament. I settle for nothing but the best, and our breeding program proves it! We sell puppies into both show prospect homes as well as companion homes. Since we are a professional breeder, we typically only have 1-2 litters per year. We always believe in quality over quantity!
We are good standing members of the Golden Retriever Club Of America (GRCA), and strictly adhere to the GRCA's code of ethics. Please enjoy our site, and come back often for new photos and updates!
Have a Derspinna Golden? Keep up with the latest by liking our Facebook page. Connect with other families, share your photos, and keep up with whats happening here week by week!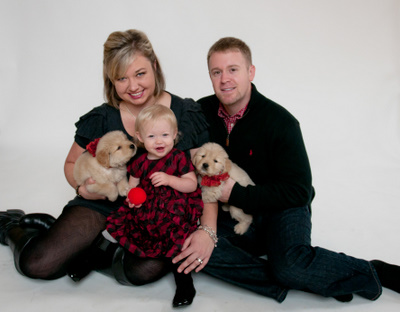 The GRCA provides puppy referral as a convenience to puppy buyers to find out about breeders who are GRCA members and their litters. GRCA takes no responsibility whatsoever for any puppies/dogs that you may acquire through GRCA puppy referral. GRCA is not responsible for any breeder's sale practices and sales contracts, nor will GRCA be involved in any manner in contract disputes between puppy buyers and breeders. Availability of puppies and conditions of sale are at the sole discretion of the individual breeder. Buyers are encouraged to read ACQUIRING A GOLDEN RETRIEVER, as found on the grca.org web-site,  for general information about obtaining a puppy, to take as much time as necessary to locate a reputable breeder from whom they feel comfortable purchasing a puppy, and to investigate breeders and their puppies thoroughly before committing to a purchase. You are not obligated to purchase a puppy from the breeders whose names you obtain from GRCA puppy referral.